new WHMCS Order Assistant is fully compatible with latest WHMCS (V6 or later).
Order Assistant helps you to automate order management process. It can automatically accept Pending Orders that already Paid (for selected products); send an email or open a ticket with client if Pending Order has been Unpaid for a few days; and eventually cancel the order if no payment is made still.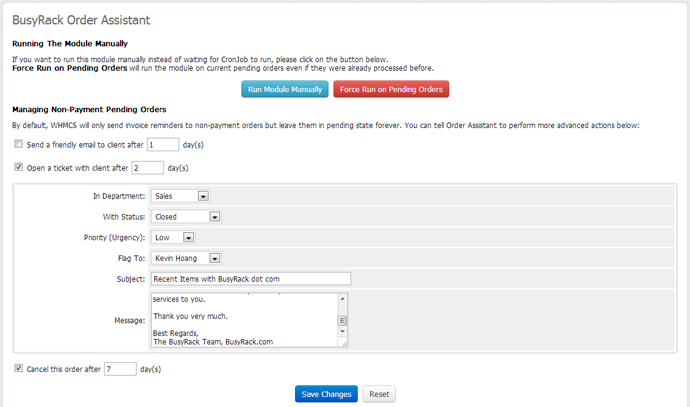 Auto-Accept Pending Orders that already Paid.
Auto-Email client if Pending Orders are Unpaid.
Auto-Open a ticket with clients if Pending Orders are Unpaid.
Auto-Cancel Pending Orders if they are Unpaid for too long.
Auto-Cancel Unpaid Invoices if they are overdue for too long.
Addon is called once a day via WHMCS daily cronjob.
WHMCS v8.x and PHP7.4 Compatibility new
PHP 5.6 or later
ionCube Loader
WHMCS V6 or later
Unpack the module and place in into WHMCS addons directory. The directory should look like this: modules/addons/br_order_assistant
Activate the addon in Setup >> Addon Modules and enter a license key.
Setup your preferences in Addons >> BusyRack Order Assistant and benefit.
---

Only $19.95

Lifetime License *$19.95*
Mobile template for WHMCS
---

Only $1.66/month

Rented License *$1.66/mon*
Order Management features
---

Only $1.66/month

Rented License *$1.66/mon*
Advanced Timer features
---

Only $1.66/month

Rented License *$1.66/mon*
Lifetime License *$79.95*
---

Only $1.66/month

Rented License *$1.66/mon*
Ticket Filtering features
---

It's FREE

Create WHMCS backup and upload to Dropbox
PRO version is available here