Dropbox Backup PRO has been released.
Enjoy PRO version for just $11.95 per year or get FREE version
PRO version with new DROPBOX API has been released!
Dropbox Backup for WHMCS is an addon module which helps you to create a backup of WHMCS database and upload to Dropbox easily and instantly.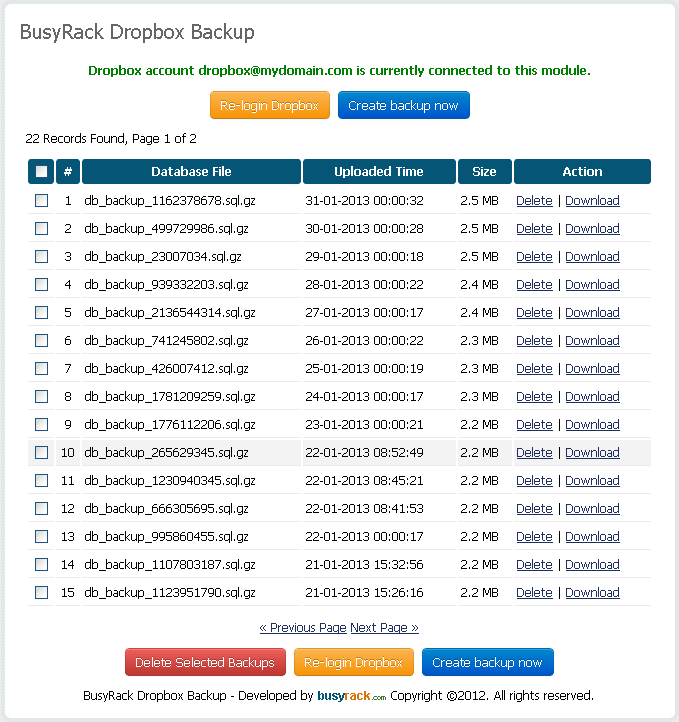 Create a backup automatically
Upload it to your own Dropbox account
Manage your backups easily (PRO Version)
Run as CronJob (PRO Version)
Notification for Admin Users (PRO Version)
PHP 7 or later
64bit OS (requried by Dropbox SDK)
ionCube Loader
WHMCS V6 or later
PHP OAuth extension
gzip (http://www.gzip.org/)
/modules/addons/br_dropbox_backup/dbs must be writable
Unpack the module and place in into WHMCS addons directory. The directory should look like this: modules/addons/br_dropbox_backup
Activate the addon in Setup >> Addon Modules
Click on Configure button and enter your software license key.
Visit the module and connect to your Dropbox account, Click on Addons >> Busyrack Dropbox Backup
Once your Dropbox account is connected, you will be able to create backup of WHMCS database and upload to Dropbox with just one single click.
---

Only $19.95

Lifetime License *$19.95*
Mobile template for WHMCS
---

Only $1.66/month

Rented License *$1.66/mon*
Order Management features
---

Only $1.66/month

Rented License *$1.66/mon*
Advanced Timer features
---

Only $1.66/month

Rented License *$1.66/mon*
Lifetime License *$79.95*
---

Only $1.66/month

Rented License *$1.66/mon*
Ticket Filtering features
---

It's FREE

Create WHMCS backup and upload to Dropbox
PRO version is available here